Description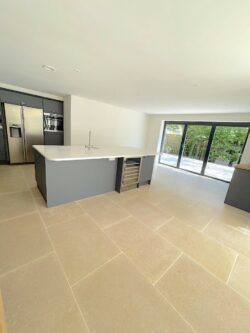 Very robust antiqued light grey with earthy tone limestone with appealing and interesting fossil character including occasional onyx pockets and some veins. This very versatile stone is suitable for high traffic areas in new builds, traditional & contemporary schemes.
We buy prime blocks then cut & finished the tiles to achieve the best finish and least maintenance possible.
Living, kitchen, bathroom (also available for outside in 2.5cm deep slabs Tumbled and Brushed at £39 +vat)
Tile dims.
900x600x15mm £35+vat
600xFL x15mm £34 +vat
50xFree lengths £32 +vat
Grand Opus (90×60, 60×60, 60×30, 29.7×29.7 x1.5cm) £32 +vat
600x400x12 £30 +vat
Opus (60×40, 40×40, 40×20, 20×20 x1.2cm) £29 +vat
We recommend sealing with STAINPROOF by DRY TREAT  to protect the stone as long as possible. Our selection of limestone tiles offer a broad variety of colours, sizes and finishes to enhance any home. Many are available in large format for those looking for a traditional flagstone floor.